Solving Plumbing Problems
for Over 20 Years
Where Customers are Treated Like Royalty
Our experienced team is ready to help your home or business today.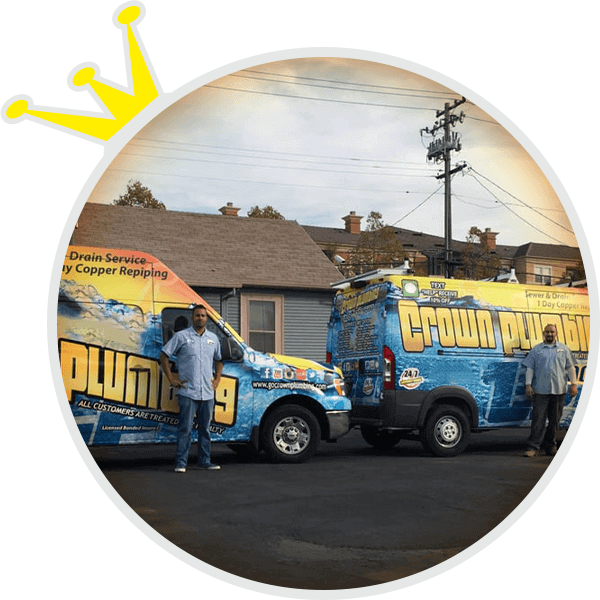 Holding the Standard for Quality Service Crown Plumbing is committed to genuine care, excellent services, and quality work that lasts a lifetime.
Residential, Commercial & Emergency Plumbers Serving San Jose Since 2004
Are your drains clogged? Is your sink leaking water? Do you always run out of hot water at the worst times? Are your pipes or sewer line degraded from age or damage? Let Crown Plumbing give you the royal treatment and provide you with all the fast, effective, and affordable plumbing solutions you need.
We're an established local plumbing company with over 50 years of combined experience in the plumbing industry, and our San Jose plumbers are here to ensure that your plumbing system is always fully equipped to meet your needs. Whether you need residential plumbing maintenance, a commercial plumbing installation, or an emergency plumbing repair, we always deliver high-quality results and attentive service that gets the job done right.
Call our San Jose plumbing company at (408) 840-4389 for trusted services at competitive prices.
Got Plumbing Problems? Get High-End Solutions!

Our Plumbing Services
Your Trusted San Jose Plumbing Company
Our team of qualified San Jose plumbers can handle virtually any plumbing need. We offer everything from minor repairs to solutions for complex and difficult to diagnose problems.
Our expert San Jose plumbing company offers a range of quality services, including:
Prior to starting the job, our San Jose plumbing technicians will explain the work that is needed to fix your plumbing problem and answer your questions. If you have an urgent plumbing issue, we are often able to provide same day plumbing in San Jose.
Call (408) 840-4389 today to set up an appointment with our top-rated plumbing company in San Jose.
The Votes Are In
See Why Our Customers Love Us
"We started having problems with the general plumbing at our 60-year-old house so we called Crown Plumbing. They were able to come out right away and quickly evaluated and identified multiple leaks and issues."

Chris T.

"Our service provider was courteous, knew his job, was professional and cleaned up after himself very nicely"

Kristin M.

"They were available 1st thing in the morning (8-10AM), got there on time, explained the repair. He had all the supplies he needed on the truck and got it done in an hour."

Dan W.

"Dominick saved the day. I tried to fix the clogged kitchen sink drain myself with baking soda, vinegar and hot water, but started to pop leaks everywhere."

Zhen G.

"Crown Plumbing has always gone above and beyond from the nice person answering the phone, and quickly understanding what you need (almost before you do!) and makes scheduling quite easy."

Theresa B.
Drain Cleaning
15% OFF
When you notice your sink drains water too slowly, it might be time to get your drains cleaned. Regular maintenance will save you money.
Offers are not valid with any other offer. One coupon per customer. Terms are subject to change.
We Treat Every Customer Like Royalty
At Crown Plumbing, our San Jose plumbers pull out all the stops for our customers. We use the latest technology and equipment, combined with tried-and-tested techniques, to deliver a higher quality of service that ensures your plumbing issues are well and truly solved. Our San Jose plumbing technicians undergo ongoing training so that they can stay at the top of their field and give you the best possible service, and we've built our reputation on being the most knowledgeable and skilled San Jose plumbing company has to offer. Plus, we make sure our services are accessible to everyone – our special offers, exclusive discounts, and flexible financing plans mean that any service you need can easily fit into your budget. We even offer emergency plumbing services and same-day appointments in the San Jose area so that you can get the professional help you need with no delays.
Crown Plumbing offers our customers quality workmanship, competitive prices, prompt response times, and exclusive discounts. Call (408) 840-4389 or reach out to our San Jose plumbers online today to schedule your first appointment!
Crowned with Quality
Our Promise to You
Above and Beyond Customer Service

Equipped with the Latest Technology

50 Years of Combined Experience
Contact Us
Crown Plumbing is available seven days a week and will be flexible with your time. Our plumbers proudly serve residents of the San Jose area. Give us a call today to learn more about our services or to schedule your appointment.